If you have been affected by any of the issues discussed in this performance, please check out the links, resources and contact details below for support or to ask for information or advice:
---
Helplines
There is an excellent selection of support lines to call for help and advice regarding rape, domestic abuse, domestic violence, sexual assault and more via onemanchester.co.uk
Refuge's National Domestic Abuse Helpline: 0808 2000 247 / Web Chat / Contact Form
National Men's Domestic Abuse Advice Line: 0808 801 0327 / Email: info@mensadviceline.org.uk
---
Directory of Domestic Abuse Services from Women's Aid
---
Ask for ANI codeword
If you are experiencing domestic abuse and need immediate help, Ask for 'ANI' in a pharmacy that has the 'Ask for ANI' logo on display.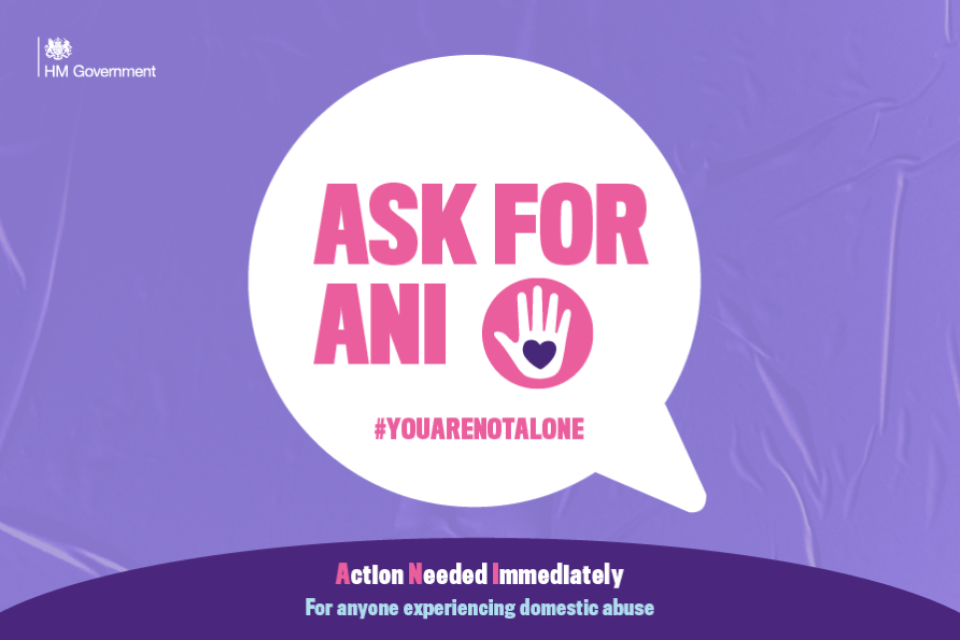 'ANI' stands for Action Needed Immediately.
They will offer you a private space, provide a phone and ask if you need support from the police or other domestic abuse support services.
Further information, help and support is available via Gov.uk
The useful advice below is from gov.uk:
How to call the police when you can't speak
If you are in danger and unable to talk on the phone, call 999 and listen to the questions from the operator and, if you can, respond by coughing or tapping on the handset.
Call 999 from a mobile
If prompted, press 55 to Make Yourself Heard and this will transfer your call to the police. Pressing 55 only works on mobiles and does not allow police to track your location.
Call 999 from a landline
If the operator can only hear background noise and cannot decide whether an emergency service is needed, you will be connected to a police call handler.
If you replace the handset, the landline may remain connected for 45 seconds in case you pick up again.
When 999 calls are made from landlines, information about your location should be automatically available to the call handlers to help provide a response.
If you are deaf or can't use a phone
You can register with the emergencySMS. Text REGISTER to 999. You will get a text which tells you what to do next. Do this when it is safe so you can text when you are in danger.